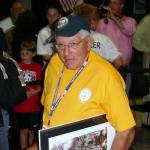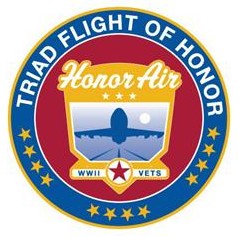 A Tribute to         Alon E. Utt

Club Founder & President

June 29 1927 - July 7, 2015

The history of the Carolina Scrollers dates back many years. Alon E Utt, the founder and president of the club, formed the club. The initial club was just three members having a common wood scrolling interest. Alon was a "master" scroller having created numerous works of scrolling art. Alon defined scrolling as art or art form and not a craft or crafting. His logic was well founded because scrolling requires a keen sense by the scroller of wood characteristics, wood finishing techniques, a refined skill in using the scroll saw to successfully navigate through delicate cuts.

Alon over the years worked diligently to build a member base for scrollers, inexperienced and experienced alike. Alon, working with the Winston Salem Klingspor Woodworkers Shop, provided for a regular meeting place.

Equally noteworthy was Alon's personal commitment towards the promotion of scrolling. Alon, for a number of years, regularly demonstrated the art of scrolling at the Winston Salem Klingspor Shop. As part of Alon's commitment to the club he offered structured scrolling lessons to new club members in his home shop. Alon was a great teacher of Scrolling having the necessary patience.  

Another dimension of Alon's commitment was his relentless pursuit of show opportunities (known as craft shows) and retail outlets that expressed interest in marketing member's scrolling artwork. Most rewarding to Alon was demonstrating scrolling for non-profit organizations and area senior citizen facilities.

Behind the scene of demonstrations and shows, Alon was the person taking the responsibility for the logistics of equipment and coordinating club support. This dedication by Alon represented a significant amount of personal commitment. 

Aside from his keen interest in Wood Scrolling, Alon was a dedicated Husband, Father, Grandfather and Great Grandfather. Alon's work ethic was beyond reproach. He was also a "master" salesman.

Alon's greatest conviction was his sincere belief in God. He was a witness to anyone that would listen and he would use his skills as a Scroller by making scrolled Crosses and other Religious items that he would offer to so many.

Not to be forgotten, Alon was a World War II veteran that was assigned to the Pacific battleground in 1944.

Alon has been missed by all members, past and present. Although Alon will not be physically present at meetings and events, he will be there in spirit each and every time. There will always be a sense of "what would Alon do"?

On December 9, 2013 club President, Alon Utt, was honored by Club members for his dedication and commitment as the founder of the Carolina Scrollers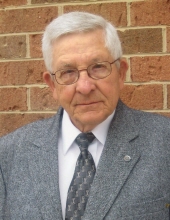 Klingspor Woodworkers Show - Oct. 26 & 27, 2012

A Tribute to Gray Beckner

Long time member Gray "Papa" Beckner passed away April 4, 2017. Gray as a scroller, will be remembered as the club "Fretwork Clock" expert. Gray scrolled the largest and most difficult clocks. Gray along with his son Keith, also a long time member, enjoyed scrolling together in Gray's shop. Gray participated in numerous club activities as he really enjoyed the fellowship with members and having discussions with visitors at scrolling shows. He really enjoyed the times he spent with the club founding president Alon Utt. It was entertaining to hear them joking with each other.